These are portrait flags with an angle cut out to accommodate the angled flag pole which allows the flag to hang vertically downwards.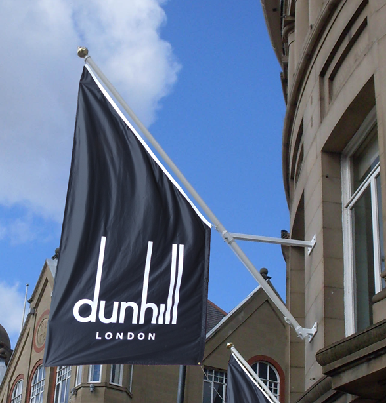 There are many advantages of flying this particular style of flag.
The flag can be double sided reading correctly on both sides.
Permanently displays your flag/brand/business logo.
Why Choose an Angled Flag:
Logo's are continuously displayed in all weather
Variety of different flag fabrics can be offered
Both Printed and sewn flags can be manufactured
Great when running a "Sale" campaign
Who uses Angled Flags:
Many High Street retail shops with limited space
Retail and business parks
Product launches and everyday brand awareness
Specification:
We digitally print using top quality Swiss inks
We manufacture on many fabrics including MoD approved knitted polyester flag fabrics or top of the range German flag fabrics
Handmade sewn flags are manufactured from MoD woven polyester flag fabrics
All flags are expertly sewn, hemmed and finished by our team of machinists
It is recommended that you install a simple tie back system to help prevent the flags from possible wrap, certain criteria is required to prevent flag wrap, please discuss before adapting your site
Optional Extras:
Tie back kits (prevents wrapping around pole)
Anti furl bars (prevents wrapping around pole)
Alternative satin polyester flag fabric – creates a metallic effect
We also offer:
On site installation
Free quotes and advice
Artwork redraw & graphic services